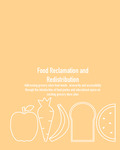 Description
Looking at Las Vegas, there is a lack of local agricultural systems. Due to its desert climate and current state of drought, there are insufficient resources to establish a traditional style of agriculture. With the lack of in-state or in-city agriculture, Las Vegas is seeing a rise in population of those who face food insecurity and lack of access to fresh food. In order to even consider food growth that would help to mitigate insecurities, there would need to be commitment to establishing an alternative agricultural process that would survive in Las Vegas' arid climate. These alternatives often look at the support of new technologies and alternative agricultural processes. However, before even thinking about what systems can be added to the city, it's important to look at how we can restructure systems that already exist.
Clark county has seen an increase in food insecurity, and therefore food deserts, in the last 10 years. Communities are facing less access to fresh food suppliers. This inaccessibility is due to many reasons, but the most impactful are due to lack of income to afford fresh food or lack of geographical access to these resources. Due to this, many of those who live in food deserts often result in eating more fast food because of its affordability. So how can we make food more accessible and more affordable?
With population growth, addressing food insecurity is becoming more of an issue. While billions are going without fresh food, there's at least of all the world's food going to waste in landfills. Grocery stores - the most common source of fresh food for communities - contribute to 11% of all food waste due to product appearance standards, damage or products and "expiration" dates. The majority of all food waste - 44% - comes from the residential sector and still billions of people face food insecurity.
So the relationship between the supplier - the grocery store - and the consumer needs to change. Systems within the grocery store need to change to address potential food waste and find ways of reclaiming food waste so that it can become more accessible for the everyday consumer.
Publication Date
5-15-2022
Publisher
University of Nevada, Las Vegas
Keywords
Architecture;Design;Community;Food Waste;Grocery Store;Food Pantry;Food Insecurity;Food Education;Food Accessibility
Disciplines
Architecture | Food Security
Recommended Citation
Arista, Diane, "Food Reclamation and Redistribution: Addressing Grocery Store Food Waste, Insecurity and Accessibility Through the Introduction of Food Pantry and Educational Space on Existing Grocery Store Sites" (2022). Hospitality Design Graduate Capstones. 43.
https://digitalscholarship.unlv.edu/arch_grad_capstones/43
Rights
IN COPYRIGHT. For more information about this rights statement, please visit http://rightsstatements.org/vocab/InC/1.0/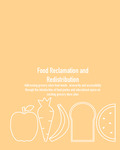 Included in
COinS