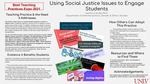 Description
The Social Justice Issue is a project-based assignment in which students organize in groups to address a social justice issue of their choice. In addition, students are asked to connect theory and practice (praxis) by looking for resources in their community to offer possible recommendations, solutions and resources.
Topics researched include: Voting Rights; Sexual Assault At Colleges; The Racialization of Cannabis Use; Mental Healthcare; Legalizing Prostitution; Gender Pay Gap; Black Lives Matter; LGBTQA Rights Stigma Suicide & Homelessness; Japan's Patriarchal Society; RBG - Open Supreme Court Position; ICE Inhumane Treatment of Immigrants; Universal Healthcare; and Mental Health Stigma.
This teaching practice is used to help students accomplish the course learning outcomes, and to promote engagement, deep learning, metacognition, and group collaboration.
Students identified the Social Justice Issue Project as the most beneficial assignment they had done in class, stating:
"The social justice project really helped with diving deeper into subjects I would've never really looked into."
"I really enjoyed working on the social justice project. It was informative, and I learned so much. I thought I knew about most of the issues, but there's so much left for me to learn and research about."
"I would say our Social Justice Project midterm has been the most beneficial. It got us thinking about real world issues and how those relate to our class. I hadn't realized the variety of topics that would be chosen and how invested my classmates would be in those topics."
Publisher Location
Las Vegas (Nev.)
Publication Date
1-23-2021
Publisher
UNLV Office of Faculty Affairs
Keywords
Social justice; Community engagement; Student engagement; Group collaboration; Project-based learning; praxis
Disciplines
Education | Higher Education | Scholarship of Teaching and Learning
Rights
IN COPYRIGHT. For more information about this rights statement, please visit http://rightsstatements.org/vocab/InC/1.0/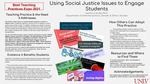 Included in
COinS