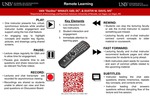 Title
Description
One instructor presents live, virtual, synchronous lectures while another instructor builds engagement and support using the live chat feature.
An engaging way to highlight concepts and explain key figures, pictures, and drawings using shared screens.
I share my screen and move through the e-textbook to discuss the most important topics from each week's chapter. During each discussion, I intersperse my drawings of body structures on Google Jamboard. While I present, Dustin works in the chat to ask recall and application questions, answer students' questions, and link resources such as educational YouTube videos and practice quizzes. Our DVDs address two key student needs: effective remote learning and filling knowledge gaps in real-time during lectures.
We host our DVDs by using Google Meet and Google Jamboard. We record every session and have a transcript from the chat. Those recordings and transcripts are uploaded to the Canvas shell for the anatomy and physiology lecture. Uploading the recordings allows students who attended the DVDs to rewatch and students who could not attend to watch for the first time. Our live, dynamic instruction each week thus supports the learning of students in real-time and students with personal and work demands that prevent them from attending on Tuesday afternoons.
Publisher Location
Las Vegas (Nev.)
Publisher
UNLV Office of Faculty Affairs
Keywords
Education; Adult education; Engagement; Online learning; Remote learning
Disciplines
Accessibility | Education | Educational Methods | Higher Education | Scholarship of Teaching and Learning
Rights
IN COPYRIGHT. For more information about this rights statement, please visit http://rightsstatements.org/vocab/InC/1.0/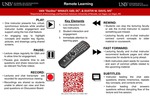 COinS