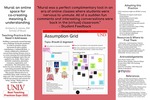 Description
Building an online community around learning has been challenging throughout the academic and artistic disruptions caused by the COVID 19 pandemic. In order to promote remote interaction and educe student contributions, I utilized MURAL, a virtual, collaborative whiteboard, several times during AY2020-2021 to co-create meaning and understanding of common pedagogic topics that are applied in my studio. This practice allowed all participants to contribute ideas, make revisions, and enjoy new "aha" moments in real-time with far less pressure and concern for feeling "called out" or being "wrong."
These activities benefitted the students and the overall wellness of the student participants in several ways. As stated above, a sense of community was built during a period of isolation. Students and their instructors can learn and teach together in real-time over a robust online platform. Introverted students may share thoughts more easily through MURAL participation. Additionally, the students continue to have access to the co-created MURALs and were authorized to download them as PDFs for future reference. This allowed students from the -300 level to -700 level to "get on the same page" regarding pedagogic ideas discussed, and experience teacher to peer, peer to peer, and peer to teacher collaborations on these topics. The students enjoyed the activities once they learned how to utilize and navigate the tool.
Publisher Location
Las Vegas (Nev.)
Publisher
UNLV Office of Faculty Affairs
Controlled Subject
Educational technology; Music--Instruction and study
Disciplines
Education | Higher Education | Music Pedagogy | Music Performance | Scholarship of Teaching and Learning
Creative Commons License


This work is licensed under a Creative Commons Attribution-Share Alike 3.0 License.
Rights
IN COPYRIGHT. For more information about this rights statement, please visit http://rightsstatements.org/vocab/InC/1.0/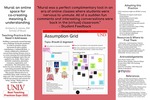 COinS