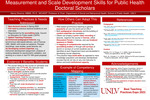 Description
Web-based synchronous teaching is gaining popularity all over the world. In web-based synchronous teaching, both pedagogical robustness and the building of content expertise are mandatory. I taught a new doctoral course, HED 763 Measurement and Scale Development in Social and Behavioral Health in the Spring of 2022. The specific teaching techniques that I used were (a) enhanced pedagogical features that included delivery as web-based synchronous, organizing the course in Canvas and making it available from day 1, recording all lectures beforehand in Panopto, utilizing case studies, employing WebEx and its breakout sessions feature, guest lectures, and having weekly skill-building activities in each module and (b) developing content expertise through assignments of instrument development, analysis of existing datasets for psychometric validation, and working on a mock or real F31 NIH grant proposal. The course addressed the accreditation need of developing competencies in this area by our accrediting body Council on Education for Public Health (CEPH) as well as the felt need by current doctoral scholars and alumni graduating from the program. The course was well received and the rating for the course on semester-end evaluation was 4.77/5.00, the instructor was 4.76/5.00, and overall, 4.76/5.00. A mapping of competencies required by the accrediting bodies or through exit surveys of alumni can be identified at each Department level and dovetailed in developing course objectives. Such practice helps build skills as opposed to mere knowledge acquisition and develops standardized courses that do not rely on any one instructor to deliver and build institutional capacity.
Publication Date
Spring 2-9-2023
Publisher
UNLV Office of Faculty Affairs
Keywords
Web-based; Measurement; Evaluation; Teaching; Grant writing; Competencies
Disciplines
Cognitive Science | Education | Health Psychology | Higher Education | Psychology | Scholarship of Teaching and Learning
Creative Commons License


This work is licensed under a Creative Commons Attribution 4.0 International License.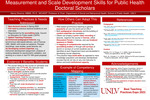 COinS