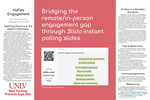 Description
To provide learning opportunities for unpredictable student needs during the pandemic, I offered HyFlex courses in Spring and Fall 2022. Students could either attend my class in person or remotely through WebEx. Engagement by remote students increased dramatically after I started using Slido's instant polling to create opportunities for communicating opinions and could gauge comprehension through open-ended and multiple choice responses live.
In the first half of my first HyFlex semester engagement among the in-person students was high, with a consistent 100% of students speaking at least once to the whole class during each class session. However, one-third of remote students did not engage with the whole class, although they reported engagement in breakout rooms. In the second half of this semester, I started using instant polling/quiz slides. Typically all but one remote student interacted with the whole class using the slides in each class session. The rate of unmuting and speaking remained the same as before the intervention, with a some remote students interacting with the whole class.
In my second HyFlex course, I used instant polling/quiz slides at every class session. Consistently, 100% of remote students interacted several times with the whole class in every session. All students participated in Slido quizzes and open-ended responses. One half of remote students unmuted and spoke several times during each class session. While this increase in engagement might not have been caused only by the use of instant polling, it is an interesting pattern which can be investigated further.
Publication Date
Spring 2023
Keywords
Polling; HyFlex; Audience engagement; Slido; Remote synchronous
Disciplines
Education | Higher Education | Scholarship of Teaching and Learning
Creative Commons License


This work is licensed under a Creative Commons Attribution-NonCommercial-No Derivative Works 4.0 International License.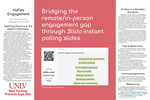 Included in
COinS