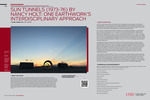 Description
In 1973, American artist Nancy Holt (1938-2014) extended her studio practice into the land, employing light, vision, and perception through photography, film, installations, and poetics. By creating her monumental earthwork Sun Tunnels (1973-76), Holt became a leader within Land art, one of the few female artists working in a male-dominated discipline.
Sun Tunnels—located near the border of Western Utah and Eastern Nevada—is comprised of four concrete tunnels placed in an "X" pattern on the Great Salt Lake Desert's alkaline floor. Each tunnel measures 18' (L) x 9' 2 1⁄2" (D); the overall work measures 9' 2 1⁄2" x 68' x 53'. The earthwork is a viewing device during summer and winter solstices as the sun rises in the middle of one tunnel then sinks through the middle of the adjacent tunnel. One constellation perforates each tunnel, providing additional framings of the land. In 2002, Holt explained: "the work comes out of my concerns with perception. Whether the sun is out or not, you can go there and have a sculpture experience."1
Through her eponymous essay (1977) and film (1978), Holt presents the earthwork through interdisciplinary subjects: scientific (astronomical, mathematical, geologic, architectural) and regional (historical, cultural). Land use (Indigenous peoples, migration, military, industrial) joins poetry and philosophy to extend the work's site-specificity. Holt wrote: "the center of the work becomes the center of the world."2 International cultures (China, transcontinental railroad; Southeast Asia, planetariums; Ancient Sumer, Base 60 number system; Western Europe, archeoastronomy) and spiritual beliefs (Native American; Buddhism; Hinduism) form this metaphorical center.
These subjects create the basis of The Sun Tunnels Encyclo: Exploring Nancy Holt's Earthwork through Perception and Site (The University of Utah Press, 2026) as encyclopedic entries. "See also" references expand entries, creating an ahistorical, intimate reading of this monumental earthwork. From past geologic and human time through the work's completion, Sun Tunnels is situated in the present through contemporary issues of Indigenous reparations, climate change, extraction processes, and the search for poetics of place on an increasingly fragile planet.
Keywords
Land art; Earthworks; Astronomy; Phenomenology; Cultural history; Geology; Land use
Disciplines
Fine Arts | Sculpture
Rights
IN COPYRIGHT. For more information about this rights statement, please visit http://rightsstatements.org/vocab/InC/1.0/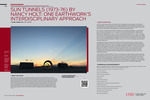 Included in
COinS