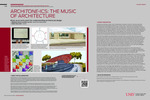 Description
Architecture and Music share many fundamental concepts in common. German polymath Goethe famously described architecture as "frozen music." Numerous renowned architects, including Frank Lloyd Wright and Louis Kahn among others, were also accomplished musicians and wrote of the connections between the two disciplines. A particularly noteworthy example of overlapping and crossing boundaries is the Greco-French composer Iannas Xenakis. Regarded as an influential figure in late 20th century avant-garde music, his first education and occupation, was actually as a structural engineer for famed architect LeCorbusier. He later practiced architecture himself before focusing on music composition, for which he is better known.
From the first scribbles and improvisations that give way to an initial idea, to the sources of inspiration, influences, and techniques that are part of the background and training of architects and composers, there are many parallels between architectural design and music composition. Listening in music is akin to seeing in architecture. Both are organized in formal structures and employ much of the same language such as composition, order, hierarchy, balance, dynamics and so on.
A third-year architecture studio has been exploring this disciplinary interrelationship as a springboard for architectural design. Nicknamed "ArchiTone•ics" it is an ongoing collaboration between professors Deborah Oakley in the School of Architecture and Diego Vega in the School of Music that has brought music more closely into the architectural design studio. Examples of work from these studies are presented in this poster.
Keywords
UNLV Architecture; UNLV Music; Architecture; Music; Pedagogy; Design Education
Disciplines
Architecture | Composition | Fine Arts | Higher Education | Music
Rights
IN COPYRIGHT. For more information about this rights statement, please visit http://rightsstatements.org/vocab/InC/1.0/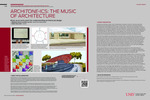 COinS