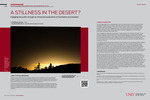 Description
The pandemic highlighted the anthropocentric nature of soundscapes, while the recent popularity of electric cars, quadcopters, and "noise cancellation" earbuds demonstrated how consumer products can rapidly change our awareness of sound. While light pollution is already extensively addressed in scholarly research, popular works such as The End of Night, and public engagement such as The International Dark Sky Association, the complex interplay of sound, natural resources, and public engagement is still emerging, particularly in creative fields.
Two UNLV scholars and artists are collaborating on this project: Julian Kilker, who specializes in visual and emerging technology research, and Tom Bjelic, who is a highly experienced sound design and field recording expert. Over the past decade, Tom has collaborated with audio field recordists around the globe to capture and produce soundscapes for narrative film and television, while Julian has documented light pollution while capturing landscapes in the Mojave at night and collaborated on multiple environmental conservation media projects.
We plan to use audio and visual field recordings to create an immersive multimedia project about soundscapes as natural resources. Our goal is to capture audio and visual assets to explore standard and extended reality media experiences. We will record soundscapes using a multi-microphone array to capture audio in a 360 degree sphere while documenting each context with wide-angle and 360 cameras and capture subsonic audio using a surface microphone. This creative and scholarly approach will be used to explore, document and engage the public on the topic of sound and light pollution.
Keywords
Sound and light pollution; Soundscape; Anthropocentric environmental ethics; Media as data; Landscape ecology; Community engagement; Field recording; Immersive media; Aesthetic evidence; Mojave desert
Disciplines
Audio Arts and Acoustics | Communication Technology and New Media | Desert Ecology | Environmental Studies | Fine Arts | Nature and Society Relations | Outdoor Education | Photography | Social Influence and Political Communication | Visual Studies
Creative Commons License


This work is licensed under a Creative Commons Attribution-NonCommercial 4.0 International License
Rights
IN COPYRIGHT. For more information about this rights statement, please visit http://rightsstatements.org/vocab/InC/1.0/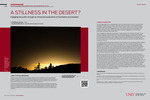 COinS