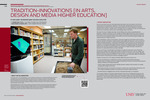 Description
How can we build a future for teaching/mentoring creative work and research that honors and enhances core disciplinary traditions? This new peer reviewed open access eJournal—collaboratively brought to life by the international Alliance for the Arts Research Universities network (a2ru), and a2ru member UNLV—provides a forum to address this question by exploring the intersection of teaching, creative work and emerging research practices.
In the challenging crucible of the pandemic, educators forged new techniques and innovative practices. Faculty in disciplines underserved by typical digital learning tools—such as in the Arts, Design and Media disciplines—explored and developed creative solutions as they shifted from in-person to remote teaching, researching, and creating. They adapted centuries-old teaching traditions to new digital technologies that were themselves changing rapidly. Post-pandemic, these faculty continue to expand "tradition-innovations" as higher education transforms in response to unprecedented and evolving challenges.
How do continually evolving digital technologies innovate the interwoven work of teaching-researching-creating, while supporting the best of traditional practices in the Arts, Design, and Media disciplines? How do emerging innovations support—or improve upon existing—teaching, research, and creative practice traditions? How can we nurture exploratory digital scholarship at the intersection of teaching and creative knowledge creation?
The inaugural Tradition-Innovations editorial board come from a multidisciplinary group in the fine and performing art and design fields. They include creative practitioners, professors, researchers, learning technologists, and arts and culture advocates and directors from a surprisingly diverse range of Arts, Design, and Media fields.
Keywords
Transdisciplinary design; Editorial board
Disciplines
Architecture | Art and Design | Film and Media Studies | Fine Arts | Photography | Theatre and Performance Studies
Creative Commons License


This work is licensed under a Creative Commons Attribution-NonCommercial-No Derivative Works 4.0 International License.
Rights
IN COPYRIGHT - EDUCATIONAL USE PERMITTED. For more information about this rights statement, please visit http://rightsstatements.org/vocab/InC-EDU/1.0/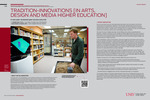 COinS