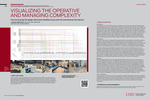 Description
School of Architecture faculty members Joshua Vermillion and Paul Morrison led a multi-disciplinary group of students from Architecture, Landscape Architecture, and Theater in a design-build elective, sponsored entirely by companies in the tile and coverings industry. The key to these sorts of collaborations between industry and academe is to see the production, fabrication, and assembly process as something that can inform design, and as a result, the design can augment production by strategic design decision-making. This feedback loop, connecting both ends of the design-production continuum, can yield interesting design research questions. One such question arose repeatedly throughout this semester of material research: How to manage the complexity of so many unique shapes and colors as tiles were sawn and processed for the custom mosaics we produced. This design research problem is uniquely suited to be studied with representational explorations as it is inherently anchored within the realm of visual communications.
While all design information for a large serpentine wall and custom mosaic composed from over 1600 uniquely cut tiles was stored in a virtual model, many different drawings were produced for various individuals, roles, and stages of the project—a small selection of which are shown here. Specific sheets of drawings were given to those performing sawing operations which choreographed each cut in order to increase efficiency and time, as well as to minimize material waste. Different drawings were created for sorting, storing, and transferring each custom-sawn tile along with assembling them into custom mosaics. These questions will continue to pop up, especially as digital technologies continue to augment the design and production processes by affording us more complexity within the building industry. However, these complexities are still largely reliant on our ability to design well thought-out instructions, drawings, and other documentation that quickly, easily, and beautifully display information.
Publication Date
Fall 10-26-2022
Keywords
Architecture; Design-build; Digital fabrication; Digital design; Design; Representation
Disciplines
Architectural Engineering | Architectural Technology | Construction Engineering | Environmental Design | Fine Arts | Interior Architecture | Other Architecture
Recommended Citation
Vermillion, Josh, "Visualizing the Operative and Managing Complexity: Communicating the Design-fabrication Feedback Loop with the International Tile Industry" (2022). Creative Collaborations. 7.
https://digitalscholarship.unlv.edu/cfa_collaborate/7
Creative Commons License


This work is licensed under a Creative Commons Attribution 4.0 International License.
Rights
IN COPYRIGHT. For more information about this rights statement, please visit http://rightsstatements.org/vocab/InC/1.0/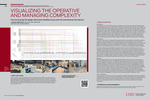 COinS