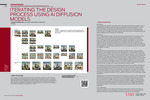 Description
These studies span research and creative work to interrogate the generative capacity of text-to-image diffusion models that leverage artificial intelligence to produce architectural concepts, ideas, and imagery. These systems can generate an enormous amount of imagery in a very short amount of time based entirely from the written word, and we are still just beginning to understand how these digital tools might augment and/or disrupt, both, the design process, and design pedagogy within the discipline of architecture.
These AI models occupy a quickly evolving technology space with tremendous implications for how we design, as well as how we visualize—and verbalize—our ideas. Several AI diffusion model platforms are being tried and tested to iterate various conceptual design ideas, including Dall-E, MidJourney, and Stable Diffusion. The poster graphics show how this process works (in MidJourney, in this case), starting with a text "prompt." While designers and illustrators are very capable of generating their own graphics to design and communicate ideas, diffusion models offer two different value propositions. The first is speed. Each of these images only take 30-90 seconds to create. The second is the randomness and non-determinant factors from the machine training. The algorithm can produce many different ways to see and interpret that idea, resulting in "happy accidents" and other results that "tickle" the designer's imagination, leading to further exploration and iteration in this early stage of design and ideation.
Publication Date
Fall 10-26-2022
Keywords
Artificial intelligence; Machine learning; Diffusion model; Design; Architecture; Post-human design
Disciplines
Architectural Technology | Environmental Design | Fine Arts | Interdisciplinary Arts and Media | Other Architecture
Creative Commons License


This work is licensed under a Creative Commons Attribution 4.0 International License.
Rights
IN COPYRIGHT. For more information about this rights statement, please visit http://rightsstatements.org/vocab/InC/1.0/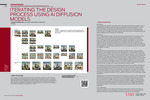 COinS