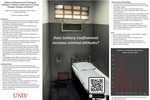 Description
Documented increases of problematic symptomatology following exposure to social exclusion contexts may be suggestive of increases in antisocial cognition and pro-criminal attitudes among prisoners. An exacerbation in behavioral indicators of criminality in correctional populations including aggressive behavior, reduced cooperation, and deficits in impulse control may suggest that restrictive and exclusionary correctional practices can aggravate criminogenic thoughts, feelings, or beliefs. Existing literature indicates that an endorsement of pro-criminal attitudes is one of the greatest predictors of future criminal behavior.
The study will recruit 400 randomly selected female adult inmates from Florence McClure Women's Correctional Facility of Las Vegas, Nevada. A hard copy of self-report survey will be given to the participants and is expected to take 1 hour to complete. After informed consent, participants will be asked to complete a survey regarding their demographics, confinement, and pro-criminal attitudes. Participants will be surveyed at the beginning of the study, and approximately 1 week after they are released from segregation. At least one participant from the initial sample who approximately matches the demographics of the participant who is exiting segregation will also be surveyed at the same time as part of a control group.
The primary goal of this study is to demonstrate the negative effects of solitary confinement. The secondary goal is to impact policy in correctional institutions. This study aims to understand whether being placed in solitary confinement can affect pro-criminal attitudes. This research will become a strong premise to the argument of abolishing solitary confinement.
Publication Date
Fall 11-15-2021
Keywords
Solitary confinement; Criminogenic attitudes; Pro-criminal attitudes; Isolation; Forensic psychology
Recommended Citation
Newhouse-Van Vlerin, Michal; Benning, Stephen Ph.D.; and Kourtesi, Demi, "Solitary Confinement and Criminogenic Attitudes: Is Isolation Reinforcing Pro-Criminal Thoughts, Feelings, and Beliefs?" (2021). Undergraduate Research Symposium Posters. 33.
https://digitalscholarship.unlv.edu/durep_posters/33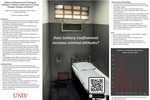 COinS