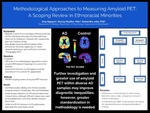 Description
Alzheimer's disease (AD) disproportionately affects Hispanic/Latinx (H/Lx) and Black/African American (B/AA) individuals, who face about 1.5-fold and 2-fold more risk of disease development, respectively, than non-Hispanic whites. Few studies examine AD biomarkers within ethnoracial minorities, especially for newer research techniques, such as Positron Emission Tomography (PET). This study reviews current literature on amyloid PET within H/Lx and B/AA populations, exploring methodological approaches.
A scoping review of AD literature was conducted to identify publications with H/Lx and B/AA study samples and amyloid PET data. Two researchers combined search results from three databases, deleted duplicates, and independently reviewed publication abstracts to determine study inclusion. Descriptive trends in the literature were examined.
Within amyloid PET literature, 26 articles utilizing H/Lx populations and 33 articles including B/AA populations were reviewed. Of those, 7 H/Lx articles and 8 B/AA articles met criteria for inclusion, from which methodological differences and sample effects were evaluated. Identified studies utilized one of three possible imaging markers, Florbetaben, PiB, and Florbetapir. Some studies utilized a cut-off value to determine amyloid status, although different values were used across publications, and other studies utilized a visual read. Within the B/AA literature, 6 of 8 publications described the same study cohort.
Differences in methodology for determining biomarker status makes comparison between studies challenging. Limited diversity within study samples decreases the representativeness and generalizability of findings. Further investigation and greater use of amyloid PET within diverse AD samples may improve diagnostic inequalities; however, greater standardization in methodology is needed.
Publication Date
Fall 11-15-2021
Keywords
Amyloid PET; Methodologies; Alzheimer's disease; Ethnoracial minorities; Health disparities
Recommended Citation
Nguyen, Amy; Moeller, Stacey M.Sc; and John, Samantha, "Methodological Approaches to Measuring Amyloid PET: A Scoping Review in Ethnoracial Minorities" (2021). Undergraduate Research Symposium Posters. 38.
https://digitalscholarship.unlv.edu/durep_posters/38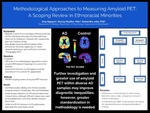 COinS