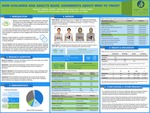 Description
"Beauty is Good Stereotype": Higher attractive individuals are thought to be more intelligent, more successful, and happier overall. They also obtain more visual attention and are deemed more trustworthy.
Making a choice based on a person's appearance and attributes might lead to dangerous consequences and lead to being deceived.
We investigated how the appearance of male and female experts influence whether children and adults trust statements made by the expert, establish what that expert knows and determine that expert's attributes (warmth and competence). The results of this study will help us better determine what cues children and adults use when making trustworthiness decisions.
Publication Date
Spring 4-27-2022
Keywords
Child psychology; Cognition in children;
Disciplines
Child Psychology
Rights
IN COPYRIGHT. For more information about this rights statement, please visit http://rightsstatements.org/vocab/InC/1.0/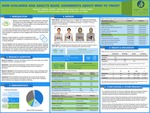 Included in
COinS