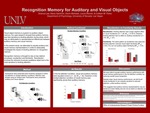 Description
Visual object memory is superior to auditory object memory. Our past research showed that auditory memory was less sensitive to divide attention during study, which may be attributable to representational differences between auditory memory and visual memory.
In the present study, we attempted to equate auditory and visual memory representations in order to adequately investigate the impact of dividing attention on recognition memory.
Recognition memory is thought to rely on two distinct processes, recollection and familiarity. Recollection involves the retrieval of precise qualitative detail and is the most sensitive to dividing attention.
Publication Date
Spring 4-27-2022
Keywords
Memory; Cognitive science; Visual perception; Sound
Disciplines
Cognitive Neuroscience | Cognitive Science
Rights
IN COPYRIGHT. For more information about this rights statement, please visit http://rightsstatements.org/vocab/InC/1.0/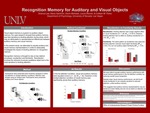 Included in
COinS