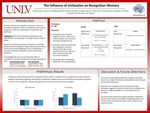 Description
Previous research on recognition memory assumes that associative recognition relies on recollection, whereas item recognition relies on a combination of recollection and familiarity. Unitization refers to the encoding strategy where two separate items are perceived as a single coherent entity or object. Research has demonstrated that unitization can facilitate familiarity-based recognition by generating representations of the stimulus and integrating it into a unified whole. To investigate this issue, we examined the effect of unitization on memory for word-pairs through two types of tests:
Associative Recognition: judge whether word pairs occurred together
Item Recognition: judge whether single words are old or new.
Publication Date
Spring 4-27-2022
Keywords
Memory; Cognitive science; Cognitive neuroscience
Disciplines
Cognitive Neuroscience | Cognitive Science
Recommended Citation
Tong, Ting; Bolling-McDevitt Hernandez, Amaya D.; Kirsch, Audrey; and Osmanski, Alanna N., "The Influence of Unitization on Recognition Memory" (2022). Undergraduate Research Symposium Posters. 92.
https://digitalscholarship.unlv.edu/durep_posters/92
Rights
IN COPYRIGHT. For more information about this rights statement, please visit http://rightsstatements.org/vocab/InC/1.0/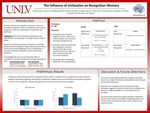 Included in
COinS