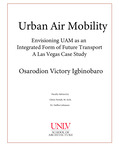 Description
Rapid urbanization has resulted in more people moving to cities to live and work. By 2030, an estimated 5 billion people will live in urban areas representing about 60% of the world's population. This increase in population growth brings forth new mobility challenges and opportunities for city planners, importantly, the challenge of transporting people and goods to their destinations in the most efficient, safe, quick and sustainable manner.
Traffic congestion, greenhouse gas emissions from vehicles, the cost of maintaining existing and building new transportation infrastructure are among several reasons why many cities seek sustainable alternatives to compliment their existing transport systems and meet their growing future mobility needs. Following the technological innovations and regulatory advancements in air travel in recent years, one of such potentially viable mobility system being considered for last mile deliveries and passenger air travel is Urban Air Mobility (UAM).
UAM proposes using Electric Vertical Takeoff and Landing (eVTOL) aircrafts for a highly automated, saf and convenient air transportation solution that will transport passengers and cargo at lower altitudes within urban and suburban areas. Significant advances in battery and automation technology in recent years has allowed UAM evolve into a sustainable, less infrastructure-intrusive, less noisy and cost effective mobility option that can possibly address future mobility needs. A market study by The National Aeronautics and Space Administration (NASA) estimates about 130 million UAM passenger trips per year by 2030 (NASA, 2018).
While research and development strides are being made in the technology, policy, economics, airspace safety and security of UAM operations, less attention is being given to the ground infrastructure widely referred to as "Vertiports" that is needed to support UAM operations, such as the infrastructure for the Take-off, Landing, Passenger Boarding, Cargo Loading, Battery Charging, repair and maintenance of eVTOL aircrafts.
Although certain Heliports can be used for scaled UAM operations and for testing eVTOL aircrafts, The Federal Aviation Administration and UAM industry continues to stress the need for designated infrastructure known as "Vertiports" to be designed and built particularly for safe, cost-effective, convenient and efficient UAM operations to meet the needs of specific urban areas (FAA, 2020).
With a growing population of more than 2 million and tens of millions of travellers visiting Las Vegas yearly, the city continues to improve its transportation infrastructure to meet the needs of its local residents and travelling visitors. This research proposal will present UAM as a complimentary method of passenger and logistics transport integrated into the City's existing built envionrment and transportation network.
Publication Date
5-15-2022
Publisher
University of Nevada, Las Vegas
Keywords
Architecture;Urban Air Mobility;EVTOLS;Vertiport;Infrastructure;Las Vegas
Disciplines
Architecture | Transportation Engineering | Urban, Community and Regional Planning
Rights
IN COPYRIGHT. For more information about this rights statement, please visit http://rightsstatements.org/vocab/InC/1.0/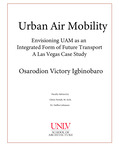 COinS