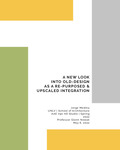 Description
Instead of creating trash, upscale and repurpose materials to determine a new design aesthetic.
According to the Las Vegas Convention and Visitors Authority, Las Vegas had 32,230,600 visitors in 2021. That's approximately 88,303 visitors per day, all of which created trash. If we consider, each of those visitors disposing of one can of soda, one bottle of beer, or one bottle of water, we can easily reach 88,303 empty containers per day. Thought, it may be more realistic that visitors consume more than one bottle of liquid a day.
According to PBS Terra, Americans create 4.9 pounds of trash a day. Considering the daily estimate of 88,303 Las Vegas tourists, they can easily create 432,685 pounds of trash per day. Now what if we consider the local population.
According to the 2020 U.S. Census, the Las Vegas Valley (Henderson, Las Vegas and North Las Vegas) had a combined 1,222,040 residents. If they used 4.9 pounds of trash per day, that's 5,987,996 pounds per day. More so, residents and tourist, combined have the potential to produce about 6,420,681 pounds of trash daily. Keeping in mind these are only estimates.
Publication Date
5-15-2022
Publisher
University of Nevada, Las Vegas
Keywords
Architecture;Design;Community Planning
Disciplines
Architecture | Urban, Community and Regional Planning
Rights
IN COPYRIGHT. For more information about this rights statement, please visit http://rightsstatements.org/vocab/InC/1.0/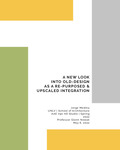 Included in
COinS