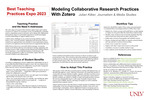 Description
The early stages of research when students explore topics and evaluate resources are critical. Yet researchers can be overwhelmed by evaluating sources, organizing resources and notes, and working with collaborators. During these stages it is particularly important to model meaningful research relationships to support student success. I address these challenges by having students explore Zotero, a free "research assistant" application and web portal, as they work on structured research assignments. While Zotero is known as a powerful citation manager, my practice focuses on its features that are most relevant to storing, organizing, and sharing resources while working on both informal and scholarly projects. In my experience, a successful introduction of such features will encourage students to reflect on and further explore their own research workflows and collaborations.
Keywords
Modeling research practices; Research workflow; Zotero; Collaborative research practices; Research relationships; Student success; Informal versus scholarly research
Disciplines
Education | Higher Education | Information Literacy | Scholarly Communication | Scholarly Publishing | Scholarship of Teaching and Learning
Creative Commons License


This work is licensed under a Creative Commons Attribution-NonCommercial-Share Alike 4.0 International License.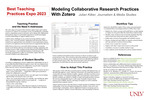 COinS