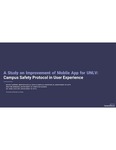 Description
According to The National Center for Education Statistics (NCES), an average of 28,000 crimes were reported on college campuses across the United States in 2019. However, while many universities offer services to help students stay safe while on campus, students continue to feel unsafe.
The University of Nevada Las Vegas's (UNLV) proximity to the Las Vegas Strip causes campus to be vulnerable to crime. While UNLV offers students safety resources through their campus safety app, 'RebelSafe,' we found that only a small percentage of UNLV students actually use the app and wanted to pinpoint why. Thus, we focused our research on improving the usability and User Experience (UX) of this existing campus safety application by redesigning the app and conducting usability tests with the redesign.
To test the effectiveness of the new redesign, our empirical study consists of three tasks for participants to execute: contacting police, requesting safety escorts, and accessing other safety resources. The findings from the usability testing help us analyze the difficulties users experience from the prototype. They also help us determine areas that are working and areas that need improvement.
By focusing on the improvement of the existing UNLV RebelSafe mobile app, this study intends not only to specify an effective user interface design that fits into emergency protocol procedure but also to clarify the campus safety resources through a single mobile application.
Publication Date
Fall 11-15-2021
Keywords
User Experience; Safety Application; University/Campus Safety; User Interface Design; Design Principles and Methodology
Recommended Citation
Carrera, Mayra; Diallo, Mustafa; Garcia-Leon, Cecilia; Le, Khristine; Monsada, Kristine; and Seo, Sang-Duck Ph.D., "A Study on Improvement of Mobile App for UNLV: Campus Safety Protocol in User Experience" (2021). Undergraduate Research Symposium Lightning Talks. 9.
https://digitalscholarship.unlv.edu/durep_lightning/9
Rights
IN COPYRIGHT. For more information about this rights statement, please visit http://rightsstatements.org/vocab/InC/1.0/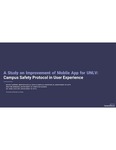 COinS