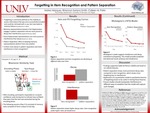 Description
Forgetting is commonly defined as the inability to access information that was once successfully encoded and could be retrieved with a cue, but now leads to memory failure (Frankland et al. 2013).
Memory representations based in the hippocampus engage in pattern separation and are more prone to decay than interference (Sadeh & Pertrzov, 2020).
Extra-hippocampal representations are more prone to interference than decay (Hardt et al. 2013).
Pattern Separation refers to keeping memory representations distinct from one another.
Is there more decay in pattern separation and more interference in item recognition?
Publication Date
Spring 4-27-2022
Keywords
Memory; Cognitive science; Cognitive neuroscience
Disciplines
Cognitive Neuroscience | Cognitive Science
Rights
IN COPYRIGHT. For more information about this rights statement, please visit http://rightsstatements.org/vocab/InC/1.0/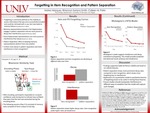 Included in
COinS