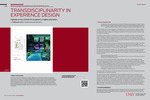 Description
In our age of ubiquitous devices and digital media it is the perceived value of the end-to-end experience that brings people to a place. Designing inspiring and emotionally engaging end-to-end experiences requires experts in a wide range of disciplines committed to an interdisciplinary collaboration that can arrive at transdisciplinary design - the sum becomes greater than its parts.
Civil engineering, hospitality, business, psychology, digital User Experience (UX) design, and experience data analysis need to be seamless integrated with the fine and performing arts and design fields:
Architecture, interior, landscape and sound design actively engage the senses.

Graphic and fine arts infuse common and work areas, as well as digital spaces.

Choreography of engaged hospitality with the feel of authenticity plays an integral role.
Experience Design, ExD or XD, has been adopted by a variety of disciplines in higher education in English-speaking programs globally: Architectural, interior, graphic and digital design, business and hospitality management, and theatre. ExD/XD is an area adjacent to, but distinct from user experience design (UX). While UX focuses on digital media, ExD/XD focuses on the end-to-end design of an event, product, or process, which might include UX.
While there is usually at least a nod to interdisciplinary collaboration in Experience Design program descriptions, none of the programs I found offers expertise in the broad range of disciplines necessary for creating end-to-end engaging experiences. In summary, currently available higher education programs in Experience Design in English lack commitment to the transdisciplinarity needed for designing engaging end-to-end experiences.
Keywords
Experience Design; XD; ExD; Transdisciplinary design
Disciplines
Acting | Architectural Engineering | Architectural Technology | Art and Design | Art Practice | Arts Management | Audio Arts and Acoustics | Business Administration, Management, and Operations | Civil and Environmental Engineering | Cognitive Science | Community Psychology | Construction Engineering | Entrepreneurial and Small Business Operations | Fine Arts | Higher Education | Hospitality Administration and Management | Human Factors Psychology | Industrial and Organizational Psychology | Interdisciplinary Arts and Media | Interior Architecture | Landscape Architecture | Mechanical Engineering | Operations Research, Systems Engineering and Industrial Engineering | Organization Development | Other Theatre and Performance Studies | Performance Studies | Photography | Risk Analysis | Technology and Innovation | Tourism and Travel | Urban Studies and Planning
Creative Commons License


This work is licensed under a Creative Commons Attribution-NonCommercial-No Derivative Works 4.0 International License.
Rights
IN COPYRIGHT - EDUCATIONAL USE PERMITTED. For more information about this rights statement, please visit http://rightsstatements.org/vocab/InC-EDU/1.0/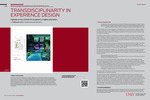 Included in
Acting Commons, Architectural Engineering Commons, Architectural Technology Commons, Art Practice Commons, Arts Management Commons, Audio Arts and Acoustics Commons, Business Administration, Management, and Operations Commons, Civil and Environmental Engineering Commons, Cognitive Science Commons, Community Psychology Commons, Construction Engineering Commons, Entrepreneurial and Small Business Operations Commons, Fine Arts Commons, Higher Education Commons, Hospitality Administration and Management Commons, Human Factors Psychology Commons, Industrial and Organizational Psychology Commons, Interdisciplinary Arts and Media Commons, Interior Architecture Commons, Landscape Architecture Commons, Mechanical Engineering Commons, Operations Research, Systems Engineering and Industrial Engineering Commons, Organization Development Commons, Other Theatre and Performance Studies Commons, Performance Studies Commons, Photography Commons, Risk Analysis Commons, Technology and Innovation Commons, Tourism and Travel Commons, Urban Studies and Planning Commons
COinS